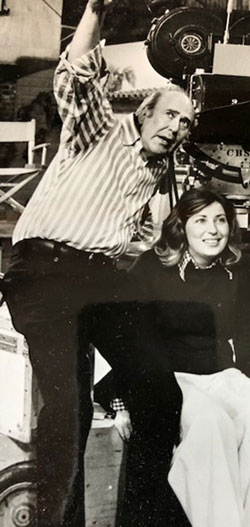 Sybil Adelman Sage was Carl Reiner's secretary for five years, and he was a major factor in her becoming a writer. Reading a spec script she'd written, he gave her an assignment on The New Dick Van Dyke Show. That was followed by her writing for Maude, The Mary Tyler Moore Show, and Lily. As exciting as it was, she tells Written By, "I remained wistful about my years working for Carl." True to form, she shows why in an original script.
FADE IN:
EXT. COLUMBIA PICTURES – DAY
ESTABLISHING SHOT
NARRATOR (V.O.)
It's 1967, Sybil's first day with Carl Reiner.
INT. SECRETARIAL OFFICE – DAY
SYBIL, a 26-year-old secretary, sometimes told she looks like Barbra Streisand, is seated at a gray metal desk furnished by Columbia Pictures. She's talking on the phone while typing at an electric typewriter.
NARRATOR (V.O.)
Carl Reiner came in late because he was rehearsing for The Carol Burnett Show.
SFX: DOOR OPENING
CARL REINER, tall and lean at 46, wearing a toupée and carrying a briefcase, ENTERS, smiling warmly.
CARL
Hi, Sybil. Everything going ok?
He heads toward his office, gesturing for her to follow.
INT. CARL'S OFFICE – IMMEDIATELY FOLLOWING
It's drab, the office of someone with no pretensions. Carl heads to his desk and sets down his briefcase. Sybil ENTERS, a piece of paper in her hand. She gives it to him. He looks shocked.
CARL
You typed up my phone messages?
She shrugs, feeling awkward.
SYBIL
I did it out of habit. It's what…
CARL
Jerry Lewis had you type up his phone messages?
He laughs and then she does.
CARL (CONT.)
You don't think it's a waste of time?
SYBIL
It's not the kind of thing you'd say to Jerry Lewis.
NARRATOR (V.O.)
That reaction assured Sybil that Carl Reiner was as down to earth as she'd hoped.
Carl sits at his desk and slowly starts lifting the toupée off his head.
NARRATOR (V.O. CONT.)
Sybil felt awkward. She wasn't sure she should be seeing something so personal. Carl treated his toupée like an accessory and wore it only for certain performances. But she didn't remember the huge laugh he got when he accepted his first Emmy and said, "If I'd known I was going to win, I'd have worn my hair."
INT. CARL'S OFFICE – TWO WEEKS LATER
Carl is at his desk, reading The Hollywood Reporter when Sybil ENTERS with the mail.
NARRATOR (V.O.)
Discovering that Carl was unassuming, the first boss to treat her like an equal, Sybil quickly overcame her timidity.
SYBIL
I'll be leaving early on Tuesday. I have a dentist appointment.
CARL
(correcting her)
May I leave early?
SYBIL
You can do whatever you want. I won't be here.
He laughs. Then she does.
NARRATOR (V.O.)
That set the tone for their relationship. Carl loved funny people and didn't seem to mind that his secretary didn't treat him like an authority figure.
DISSOLVE TO:
INT. SYBIL'S OFFICE AT SAMUEL GOLDWYN STUDIOS – DAY
It had been a dressing room so feels homier than the previous office. She's at her desk, working on a needlepoint. Carl ENTERS from the bathroom, holding a comb.
CARL
Someone's been using my comb.
C.U. – SYBIL
She shrugs.
ON CARL
C.U. – COMB - it's filled with hair the color of Sybil's, and gunk. He points to his bald head. It's not his.
CARL (CONT.)
If Queen Elizabeth comes here for a meeting, she won't want to use this comb.
SYBIL
Queen Elizabeth has her own comb.
DISSOLVE TO:
INT. SYBIL'S OFFICE – DAY
Sybil is reading a book and smoking. After a few beats, Carl ENTERS.
CARL
I was downtown near The Grand Central Market so I decided to go in and say hello to your father.
NARRATOR (V.O.)
Sybil's father had owned a small chain of supermarkets that went bankrupt. He was now renting a stand and selling bread.
CARL
(amused)
You can't imagine what it is to be Carl Reiner asking people, "Where's the day-old bread?"
Sybil laughs.
CARL (CONT.)
Anything happening here?
SYBIL
Nothing much. Some TV show called to ask if you could guest star.
CARL
Which one?
SYBIL
I don't remember.
Sybil returns to what she was reading.
CARL
I'd like to know which one.
SYBIL
I checked your calendar. You're not free that day.
CARL
I'm not sure you're allowed to turn down work for me.
Sybil shrugs.
CARL (CONT.)
Maybe the name will come back to you?
SYBIL
It began with a vowel.
Carl heads to his office.
NARRATOR (V.O.)
Many secretaries would be fired for this. Carl was extremely forgiving.
INT. SARDI'S – NIGHT
Carl, STEVE GORDON, MEL BROOKS, JACK CASSIDY, JOHN AMOS, and others are seated at a table with drinks and food. Playbills, their attire, and nervousness tell us that it's opening night of a play. Mel is holding court and the others are laughing.
NARRATOR (V.O.)
It's opening night. Everyone involved with the play is anxiously waiting to hear The New York Times review.
Sybil ENTERS with a steno pad.
CARL
Shh, everyone.
Everyone stops talking.
CARL (CONT.)
We're about to find out if we'll have a run or we're packing up and going home.
All eyes are on Sybil as she looks at the pad.
SYBIL
(reads)
Tough to Get Help, opened at the Royale Theater…
Sybil falls silent, staring at the notebook, unable to read what she wrote.
CARL
What, what did he say?
SYBIL
(struggling to read her shorthand)
…trusts…dries…tries so hard…do…to…till…
(horrified)
The guy was talking so quickly. I can't read my shorthand.
(to Carl)
Is there someone I can call at the Times?
Carl waves it off, turns to his food.
CARL
This lox looks great. Anyone want some?
DISSOLVE TO SEVERAL YEARS LATER.
INT. SECRETARIAL OFFICE – DAY
Sybil is seated at her desk, on the phone.
SYBIL
(into phone)
He's reading our script now. This is worse than waiting for a date to call.
ANGLE ON DOOR TO CARL'S OFFICE OPENING – SYBIL'S POV
SYBIL (CONT.)
Here he comes….I'll let you know what he says.
ON SYBIL, hanging up and nervously lighting a cigarette. Carl approaches, the script in his hand. His face reveals nothing. He tosses the script onto her desk.
CARL
(with no enthusiasm)
You did an excellent job. If I were producing The Mary Tyler Moore Show, I'd buy it.
SYBIL
You would?
She's shocked. After a beat:
You mean it? How come you seem so unenthused?
CARL
I'm producing The New Dick Van Dyke Show and none of my pencils has a point. Before you started writing, you used to sharpen them.
SYBIL
Maybe use a pen?
C.U. – CARL
Amused.
CARL
Come in Monday with ideas for Van Dyke.
SYBIL
Really?
He starts toward his office. She reaches for box of pencils.
DISSOLVE TO:
Sybil is reading a memo.
CLOSE ON: MEMO FROM CBS PROGRAM PRACTICES. Per our phone conversation, this script is entirely unacceptable.
NARRATOR (V.O.)
CBS insisted it was too racy to have the 11-year-old daughter innocently walking in on her parents while they were having sex. The network refused to air the show. Carl walked off his own series. That got a lot of publicity and launched Sybil's career.
DISSOLVE TO:
INT. CARL REINER'S HOME LIBRARY – DAY
Shelves are crowded with awards—Emmys, every kind of Lifetime Achievement Award, scripts and books written by Carl Reiner.
NARRATOR (V.O.)
Carl's received many, many awards, but he valued nothing more than his family.
PAN OVER PICTURES OF CARL AND HIS BELOVED WIFE ESTELLE, PAINTINGS OF HERS, TAPES OF SONGS SHE'D RECORDED, PHOTOS OF THEIR CHILDREN—Rob, Annie, and Lucas—AND GRANDCHILDREN. CLOSE ON MARK TWAIN PRIZE FOR AMERICAN HUMOR.
NARRATOR (V.O.) (CONT.)
Among Carl Reiner's many awards was the Mark Twain Prize. Twain once said, "Keep away from people who try to belittle your ambitions. Small people always do that, but the really great make you feel that you, too, can become great."
SYBIL (V.O.)
Carl was that really great person who gave me the courage in the early '70s to try writing while being a woman. That's not why he received the Mark Twain award, but it is why my favorite recurring dream had me answering the phone and saying, "Carl Reiner's office."
NARRATOR (V.O.)
Two years ago, Carl Reiner was the oldest person ever to be nominated for an Emmy. It was for narrating the documentary, If You're not in the Obit, Eat Breakfast. Sadly, June 29 was Carl Reiner's last breakfast.
FADE OUT
THE END