Johnny Carson described him as 300 pounds of Silly Putty.
A large, loony, wickedly funny man, Pat McCormick was the most gifted comedy writer of his generation. But to some McCormick was simply a buffoon. "Isn't he the guy that streaked The Tonight Show?" Yeah, that's him. "Wasn't that the huge dude who dropped his pants a lot?" Absolutely.
Pat would drop his pants at the drop of a hat. Or on special occasions. Like Thursdays. And, yes, Pat dropped his pants at his mother's funeral.
Pat McCormick didn't look like a goof ball. He wasn't Carrot Top lugging around a bag of props. Pat was indeed heavy, 6'7", with a trimmed haircut, and always wore a suit and tie. He could have passed as a VP with Chrysler.
The "drop trou" stuff started during the years he wrote The Tonight Show for Jack Paar. He'd be standing in a crowd outside 30 Rock, talking to an associate, and suddenly his trousers were draped around his ankles, boxer shorts on display, as he casually continued the conversation. Tourists would gape, parents would shield their children, pigeons would flutter away.
The Harvard track star's most famous race was not at Harvard Stadium but sprinting stark naked across Studio One at NBC Burbank. The Tonight Show audience expected an "Aunt Blabby" sketch. They got a 300-pound guy with a walrus mustache going commando. There was no Internet then but Pat McCormick's ass went viral.
But beyond the seconds of discomfort his pants-dropping stunts provided, for four decades this bizarre man dazzled us with beautifully crafted one-liners.
I met the meanest person in the world. He gave a Polaroid camera to a man with nine seconds to live.
Comedy writers were in awe of Pat. To us he was like a Rock Star. Pat's humor emanated from some deep, mysterious comedy place. Somewhere between NBC and Pluto.
What do you get when you cross a pitbull with a Collie? A dog who will tear your arm off and then run for help.
Born in Lakeland, Ohio, Pat went to Harvard where he studied law and was a track and field star.
That's right: a track star.
I first met Pat on a show called The Funny Side, one of about 15 variety series on TV in the early 1970s. Gene Kelly was the host. Bill Persky and Sam Denoff created the show. I was on staff along with some major writers. Veterans Norman Barasch and Carroll Moore were there. So was Mickey Rose, fresh off co-writing Take the Money and Run and Bananas with Woody Allen. Also on staff were Michael Elias, a young Tom Patchett, and Jay Tarses. And McCormick.
A few weeks into the show, Denoff approached me. "Arnie, why don't you and Pat try working together? We think it will be a good mix. We're putting you in a room with McCormick."
Pat and I wrote some funny sketches for the show and then went on to team up for other variety, sitcom, and late night projects. We became close friends. He was at my house in Encino a lot. He'd often bring a bundle of clothes and my wife Sue would do his laundry. Pat didn't realize it, nor did he much care, but there always seemed to be a large assortment of schmutz on his clothes. Lots of crumbs, ketchup and mustard. His shirts looked like a tablecloth at Denny's after a busy holiday breakfast. And there was always a "mystery stain." We didn't know what it was or where he got it. It could have been gravy; it could have been diesel fuel. We didn't know. We didn't ask.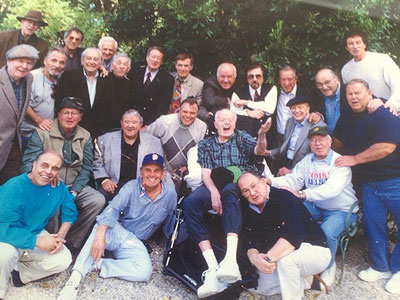 Sue was a real estate agent at the time. Pat was looking to move. He asked Sue to find him a house. Sue checked around, and came up with something.
—"Pat, I found a three bedroom you may like. It's over in Studio City."
—"What street?"
—"It's on Klump. Klump Avenue."
—"Okay, I'll buy it."
—"I'll take you to see it tomorrow. See if you like it."
—"I don't have to see it. I like it. It's on Klump."
He bought it. Pat wanted to live on a street with a funny name. Klump Avenue.
Recently I was part of a ménage a trois. The only difficulty was I had to inflate the trois.
The Sylmar earthquake rattled L.A. early morning, February 9, 1971. Comedy writers from Culver City to Chatsworth, after they picked themselves off the floor, scurried to their Underwoods and Selectrics (yes, we had typewriters then), and pounded out lines for their clients. I was doing the Jim Nabors Hour on CBS.
I was also writing material for Steve Lawrence and Eydie Gormé, who were working Ceasers Palace in Vegas that week. I sent Steve three pages of quake lines. The one we liked best was, "A big earthquake hit L.A. last night. Thousands of Jewish husbands in the Valley couldn't believe there was movement in their bed."
PC? Definitely not. Funny? We thought so.
At 11:35 that night, we saw what funny was. We got a textbook lesson on funny from Mr. McCormick who was writing The Tonight Show. Carson opened the monologue with one of Pat's classics. "Due to today's Earthquake, the God is Dead rally has been cancelled."
Later that week, after a series of jolts and aftershocks, Pat wrote this one for Johnny: "California has officially been declared a ride."
Pat did The Tonight Show on and off for about 12 years. Johnny loved his stuff. He loved Pat. And kept firing Pat. Johnny got rid of McCormick more times than he got rid of his wives. But he may have liked Pat more than any of his wives. He kept re-hiring Pat. It was worth it. McCormick may not have been as prolific as the other writers, but if you waited long enough there was always a gem.
What's the fastest way to clean out your system? Sit on a piece of cheese and swallow a live mouse.
McCormick's most famous exploits on The Tonight Show were not so much as a writer but as a performer. He was a member of "The Mighty Carson Art Players" and did a number of "interviews" with Johnny. He came out dressed as the New Year's Baby. He came out dressed as a turkey. Came out dressed as Cupid. He also came out undressed.
In 1974, Pat streaked The Tonight Show. The studio audience expected an "Aunt Blabby" sketch, maybe an "Art Fern." They got a 300-pound guy with a walrus mustache going commando. The Harvard track star's most famous race was not at Harvard Stadium but sprinting stark naked across Studio One at NBC Burbank.
There was no Internet then but that streaking moment went viral in its own way. McCormick's ass in 1974 was more talked about than any Kardashian tush in 2014. People across America were gathering at water coolers to buzz about Pat's ass. It was a fun time to live in Southern California. We had streakers then. We had water coolers then. We also had water then.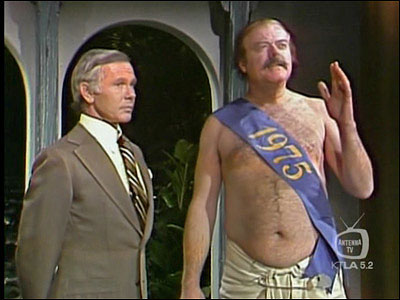 The day after the notorious streak, Pat's son Ben was on a school bus. A classmate came up to Ben. "Do you know your Dad ran naked on national TV last night?" Ben shrugged: "Oh, my Dad does something like that all the time."
Carson later said that McCormick was arrested, but released for lack of evidence.
I once shared a dressing room with Orson Welles. I noticed a label on his boxer shorts. It said, "One size fits Rumania."
Socially, you never knew what you were going to get with Pat. You took your chances. There was no "turn off" switch. No "don't go there" button. He had no internal censorship. Pat's behavior shocked not only total strangers, but friends who knew him for many years. They were wary. Never knew what to expect.
Jack Riley, a long time buddy of McCormick's, was with Pat at Ralph's Supermarket. He observed as Pat approached the checkout girl and pointed to the items in his shopping cart, saying, "Excuse me. Did I buy enough toilet paper for all this food?"
Riley also recalled another McCormick moment. "I was walking with Pat one night outside the Braille Institute on Ventura Boulevard. Pat looked to the second floor and noticed six totally darkened windows. 'Ah, he said, 'they must be working late tonight.'"
If you wear your underwear backwards it will bring on a late harvest.
Sunset Boulevard in the 1980s was, as they say, a "happening" place. Some amazing restaurants. In one three-block area you had Scandia, Cock N Bull, and Le Dome. The most elegant of them all may have been Le Dome. Great atmosphere, terrific food and drink. It was a classy place.
Until our group dined there one night.
There were ten of us at a long table. Friends of Pat's along with wives and female companions. We knew each other. The only new face was a young, attractive lady friend of one of the guys. Pat entered the restaurant dressed as a priest. We said hello to Pat and continued the conversation. We weren't startled. We had seen this kind of thing before—once at a French restaurant he came dressed as a giant snail.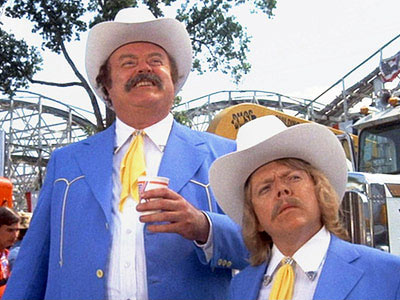 Pat sat down and immediately did an assortment of un-Priest-like things. He asked a small waitress to "climb him." He held up a tiny paper cup that was filled with a creamy yellow substance like tarter sauce and said, "All that's left of the Errol Flynn estate." Finally, he turned to the new girl and said, "My dear, a blessing on your vagina." She turned to her date: "Is he really a priest?"
At the end of the evening, as we were leaving Le Dome, Pat walked over to the restaurant fireplace, grabbed pokers, shovels, and expensive fireplace equipment, shoved them down his pants, and started to waddle out. The manager stopped him.
"Excuse me, Father. You're going to have to return those." Pat reached down his long frame and returned the equipment and we all walked out onto crowded Sunset Boulevard. Pat, still in priest garb, blessed parked cars.
"I bless this Ford Pinto..."
"I bless this Chevy muscle car..."
Beethoven was so deaf he thought he was a painter.
In 1998, Pat was scheduled to perform with Jack Riley at an event at the Beverly Hilton Hotel in Beverly Hills. He never showed. Pat had a stroke earlier that evening, and days later he was brought to the Motion Picture and TV Hospital in Woodland Hills.
Pat remained at the MPTV Hospital for the last seven years of his life. Pat was never the same. Partially paralyzed. Couldn't speak. Couldn't communicate.
We formed "Yarmy's Army," made up of actors, comedians, writers, directors, and one harmonica player. Really! We told the harmonica guy that State Discrimination laws insisted we had to let him in. Throughout the year, Yarmy members made frequent visits to Pat. Especially on his birthday.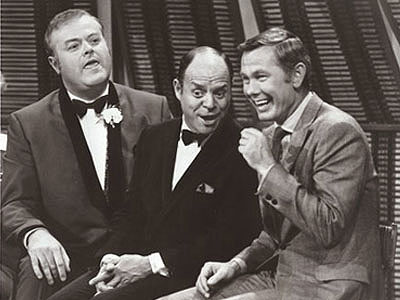 There was always a brief spark of recognition from Pat as we entered. We'd tumult, we'd tell him jokes. Sometimes reprising his own.
We tried to keep him laughing for seven years the way he had kept us laughing. Impossible task. Nobody was as funny as Pat.
Pat McCormick, actor, writer, comedy genius, died July 29, 2005. There were two memorials. A little one at the Motion Picture Hospital, and another one at the WGA Theater in Beverly Hills.
The Guild Theater was jammed with producers, writers, TV stars, friends, and family who came to pay tribute to a comedy God. Pat once said, "When Marcel Marceau dies there will be a moment of noise in his honor." That night we did something very special in Pat's honor. After the very last speech, most of the men in the theatre rose up from their seats, climbed up on the stage and in tribute we all dropped our pants.
Pat would have liked that.
Arnie Kogen has written for many TV shows including The Carol Burnett Show, Bob Newhart and Mad TV. He is a long time writer for Mad Magazine. Kogen has won three Emmys and one WGA Award.