Like the song says, it's the most wonderful time of the year, when new and cherished holiday movies reappear to help make the season bright. Written By reached out to the writers of some of the most popular holiday movies and TV episodes to ask what they most look forward to viewing season after season, and which Christmas classics inspired them once they had the opportunity to create their own additions to the holiday canon.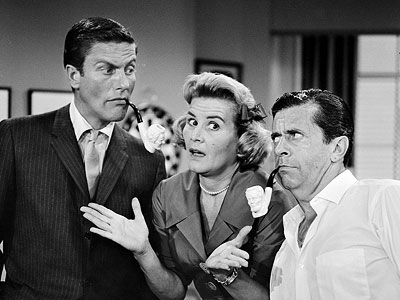 Bill Persky
Bill Persky, with his writing partner Sam Denoff, wrote almost 30 episodes of The Dick Van Dyke Show. One of the most fondly remembered is 1963's The Alan Brady Show Presents, which plays like a Christmas-themed episode of the fictional variety series. Persky, 88, remembers that "one of the objectives was to give Rose Marie's character Sally Rogers a featured spot to sing 'Santa Send a Fella,'" a song which the team also co-wrote. When asked about his favorite Christmas film, Persky says his answer is an obvious one: It's a Wonderful Life. "It's about Christmas without being about Christmas. The holiday isn't needed to make the story work, but it is certainly a good fit. There is no Santa Claus, though Clarence comes close. It is the humanity of [the story] and that's what Christmas is supposed to be about."
David Berenbaum
Christmas, notes David Berenbaum (Elf), is the most wonderful time of the year for storytelling. "There's no school, people are coming back home. You want to tell a heartwarming story that makes you want to snuggle up in a blanket and tune in every year with your family or significant other and welcome these characters who you haven't seen in a year back into your life."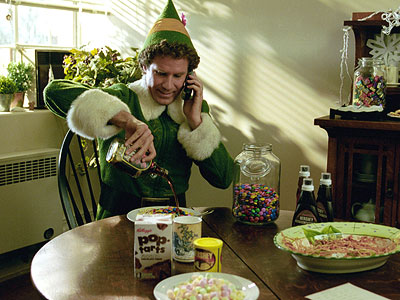 Elf is a holiday movie perennial, one of two movies—along with A Christmas Story—to get the basic cable 24-hour treatment. To create the perfect blend of heart and comedy in telling the story of Buddy the elf, Berenbaum says he went back to his childhood holiday movie favorites and the way they made him feel. He cites It's a Wonderful Life's powerful universal message of hope, the animated and stop-motion Rankin/Bass specials, as well as the 1960s' animated classics How the Grinch Stole Christmas! and A Charlie Brown Christmas. Big, written by Anne Spielberg & Gary Ross and starring Tom Hanks, was also a major influence. "I liked the way he played a kid in an adult's body," Berenbaum says. "I had just left New York and I missed it and to have Buddy, the most childlike person, in New York was a way to put myself back there." [For more on Berenbaum's writing of Elf, see the January 2019 issue of Written By.]
Scott Alexander & Larry Karaszewski
Dolemite is My Name!, the Rudy Ray Moore biopic written by Scott Alexander & Larry Karaszewski, contains a pivotal Christmas scene. When the X-rated comedian makes it big from his standup and party records, Moore takes his friends to a Christmas Day movie: The Front Page. According to Karaszewski, the scene serves as Moore's "Eureka moment" of, "This is a movie that wasn't made for me and my friends; why can't we make a movie for us?"
In choosing his own favorite Christmas movie, Alexander eschews "the obvious choice," which for him means Die Hard. Instead, he selects one of his favorite underseen films, The Silent Partner: "A Canadian tax shelter thriller starring Elliott Gould as a nebbishy bank teller and Christopher Plummer as a psychopath bank robber," Alexander explains. "It takes place over Christmas. Plummer is disguised as Santa Claus when he robs a bank. The movie has wonderful twists and turns. Curtis Hanson wrote a beautiful script."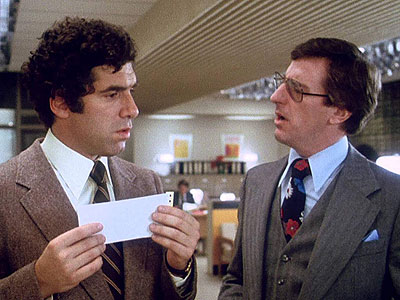 Karaszewski goes more traditional: Miracle on 34th Street. "Absolutely perfect in terms of filmmaking, performance, and screenplay. It doesn't matter how many times I've seen it, I still laugh with it and cry when Natalie Wood says, 'It's silly, but I believe.'" But he also manages to find Christmas cheer in surprising places, like the final moments of Batman Returns, with Wayne Manor valet Alfred wishing Bruce Wayne a merry Christmas, "come what may." "All of a sudden it becomes a Christmas movie and an unexpected moment that really touches you," Karaszewski says.
Bruce Vilanch
For one who grew up "so Jewish," in addition to writing, Bruce Vilanch has a couple of Christmas-themed acting credits to his name. He was featured in the 1989 TV movie It Nearly Wasn't Christmas, and played the role of was Fezziwig in the independent film Scrooge & Marley. He also wrote the PBS special Natalie Cole's Untraditional Traditional Christmas), but his most infamous holiday credit is as the co-author of the Star Wars Holiday Special, which aired but once on ABC and answered the question, what happens when the Star Wars universe meets Harvey Korman and Bea Arthur?
"George Lucas created 'Life Day,' which he thought the entire galaxy would be celebrating," Vilanch recalls of the special, written by Rod Warren, Vilanch, Mitzie Welch, Lenny Ripps, and Pat Proft. "It was the Esperanto of holidays. The holiday element was the plot-driver: Chewbacca had to get to his home planet. Along the way, we had to leave spaces for variety performances. It had to be completely non-denominational. We couldn't even reference Thanksgiving because we were in a galaxy far, far away."
White Christmas is Vilanch's own favorite holiday film. "I saw it in a movie theatre in VistaVision. It was so colorful. It had Danny Kaye and Rosemary Clooney in a red dress with white fur collars. I also like Mrs. Santa Claus with Angela Lansbury. I thought that would get some traction—the ritual viewing of Mrs. Santa Claus—but it hasn't happened." Has he thought about writing his own Christmas movie? "Christmas pictures are meant to be heartwarming and remind you what the holidays are all about: peace on earth and goodwill toward men," he reflects. "You have to be relentlessly cheerful. [In mine], everything would go wrong, and I think Gremlins [written by Chris Columbus] covered that."
Greg Malins
Greg Malins, writer of the Friends episode "The One With the Holiday Armadillo," has his holiday movie list, no need to check it twice. At the top is Love, Actually (written by Richard Curtis)—an opinion that he concedes is polarizing, but viewing the film on his birthday in early December is an annual tradition to kick-start Christmas. Like the best episodes of Friends, "it's really funny and really emotional," Malins says. "It balances it so well, and because of all the stories, it never gets too boring." Elf, he adds, is also on the list "because of the commitment of Will Ferrell [to the character]."
But there is also room in his heart for homicidal snowmen. Malins takes pride in being one of the first people to receive The Spirit of Christmas, the before-it-was-South Park animated short an executive sent out as a video Christmas card. In it, a magic hat transforms Frosty the Snowman into a raging murderer ("Oh my God! Frosty killed Kenny!"). What Malins loves more than anything, he adds, is the original British version of The Office's Christmas special, which resolved the Tim and Dawn romance. "You talk about comedy and emotion; I'm a sucker for all that stuff."
Michael LeSieur
Just making a good movie is very difficult, acknowledges screenwriter Michael LeSieur (The Grinch). But a good Christmas movie? That added bullseye is especially hard to hit. "There are not a lot of themes," he says. "Connecting with family, re-learning the spirit of Christmas… How do you speak to those themes in an original way?"
One of his favorite Christmas films is one not often associated with the holidays, but to LeSieur, it is the gift that keeps on giving: The Apartment. "With its story about adultery, corporate politics, ambition, and attempted suicide, it's certainly not the kind of Christmas movie you want to gather the young kids around and watch while snuggled together on the couch," LeSieur acknowledges. "It is an unflinching, clear-eyed look at the darker side of the holiday season. And yes, the central concept of an ambitious minion trying to climb the corporate ladder by lending his apartment to his superiors to bed their mistresses is a delicious idea no matter the time of year, but, by setting the events during the Christmas holidays, they significantly upped the stakes and the emotional weight."
From its raucous office Christmas party—"a masterful combination of razor-sharp comedy, emotional character reveals, and precise plotting"—to "that wonderful New Year's ending," The Apartment offers the "characters and the audience the promise of a new beginning, giving us hope that, even in a cold, crowded, cruel and cynical world, two people can find each other and be healed by love. And if that isn't a great message for the holidays, then I don't know what is!"
Caroline Thompson
Writing a Christmas movie is "a sticky trap," says Caroline Thompson. "It's sodden with nostalgia and clichés." For the screenwriter of Edward Scissorhands (screenplay by Thompson, story by Thompson and Tim Burton) and The Nightmare Before Christmas (screenplay by Thompson, adaptation by Michael McDowell, based on a story and characters by Tim Burton), Christmas growing up was not a nightmare, but neither was it the most wonderful time of the year.
"I am the youngest of three," she says. "I don't think I had a choice to what the TV was tuned to at any given moment." And don't get her started on her siblings' Christmas club. "My brother always demanded to be president and my sister was vice president. The point of the club was to determine which of us got to go downstairs first on Christmas morning. My dictatorial brother always staged a coup."
Thompson doesn't even consider Nightmare a holiday film. "Imagistically, it is Christmas, but it wasn't a Christmas movie in my mind. It was Sally's empowerment story." And despite her flair for the macabre, Thompson's holiday season wouldn't be complete without an annual viewing of Meet Me in St. Louis, one of her favorite films. "[The film is] perfect; not one sentence or frame that can be improved." And she also loves the signature song "Sisters" from White Christmas, which she used to perform with her own sister.
Dan O'Keefe
For Dan O'Keefe, a great holiday movie is all about the redemptive arc. In his opinion, Billy Bob Thornton's character in Bad Santa, his favorite Christmas movie, has it all over George Bailey in It's a Wonderful Life. George may owe Mr. Potter $8,000, and may be questioning his life choices and his very existence, but O'Keefe insists, "He doesn't have it that bad; he's not an alcoholic clown robbing places. When to the extent [Thornton] does change his ways, it means a little more."
Seinfeld was famously not known for hugging and learning—or for holidays. But as things would have it, one of the series' most-quoted episodes—especially this time of year—is "The Strike" (written by O'Keefe and Alec Berg & Jeff Schaffer). Write what you know, the maxim goes, and O'Keefe knows Festivus; his father invented it as a holiday without political or religious trappings, and O'Keefe spent years trying to block it out of his mind. So much so, he reports, that when colleagues on Silicon Valley asked to talk to him about "The Strike," he thought they meant the 2007 Writers Guild of America strike.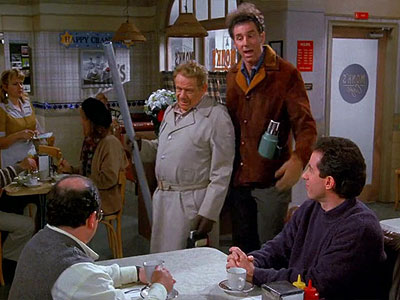 "It was the family shame," he says of the faux holiday. "My brothers and I swore an informal pact not to talk about it. My younger brother who knew Berg and Schaffer opened his yap and mentioned it [to them]. The next thing I knew, I was told Jerry thought it was funny and thought it should be on television. I wanted to take a pass, but they said it was going on. If it had to see the light of day, I should be the one who owns it," O'Keefe recalls thinking.
One of the actual rituals of this "Festivus for the rest of us" made it into the script: talking into a tape recorder to record the year's grievances. Others can't be printed here. "It was largely derived from Samuel Beckett's play, 'Krapps' Last Tape,' in which an elderly man listens to a recording of himself as a middle-aged man," O'Keefe says. What was O'Keefe's father's reaction to the episode? "At first he was confused and outraged," he shares. "Then people seemed to like it and he felt it justified, retroactively, every decision he had made in his life."
Leo Benvenuti and Steven Rudnick
The Santa Clause is something of a Christmas miracle: a spec script—and first effort—by two unknowns that was bought by Disney and developed into one of the most beloved Christmas films of the last 25 years. Leo Benvenuti and Steve Rudnick were fledgling Chicago-based screenwriters who had spent more than a decade on the road as a comedy team. When they ventured to Hollywood, their agent asked if they happened to have a screenplay. They did—a dark comedy that began with a man unwittingly shooting Santa off his roof.
"Needless to say, Disney was not thrilled about that," Rudnick deadpans. "The studio was also adamant about never saying in the movie that there is no Santa Claus; it was about believing and not believing."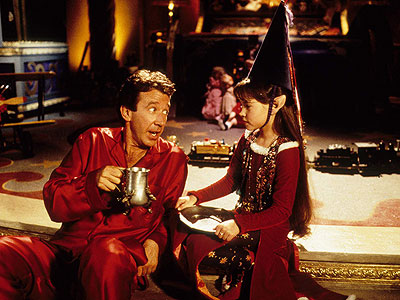 In the film, Tim Allen plays busy exec and divorced father Scott Calvin, who accepts his newfound role as Santa (after Santa falls off his roof, no shooting involved). "You have to have some heart, but you don't want to go overboard," offers Rudnick. "That's always a danger. Also, you need a degree of respect when you tell the story."
The holiday classic is informed by the Christmas movies the two liked growing up. "They always left me happy and hopeful," Benvenuti says of his favorites, including It's a Wonderful Life. "It still holds up. The idea that no man is a failure who has friends is a universal message. I don't know what the message of A Christmas Story is, but it's very nostalgic; it's just a fun, fun movie."
Rudnick had a profound holiday season movie-going experience. "I was eight years old," he says. "My grandmother wanted to take me to downtown Chicago to see the lights and to see Santa. On the way back, she took me to see a movie. The movie was Cinderfella. That was the big family movie that Christmas. Ever since that day, I was a big Jerry Lewis fan."
The experience of making The Santa Clause was a charmed one for the duo. They were flown to Toronto to observe the shoot. "It was very surreal," Benvenuti says. "Steve from Skokie, Illinois and me from Humboldt Park. We wrote in the script that Tim descends into the North Pole and Santa's workshop and gave some description of what it should look like. When we actually got on the set and looked around, we thought, 'Oh my god, these people took us seriously.'"