"'Have you thought of a story?' I was asked each morning," she recalled of that summer vacation, "and each morning I was forced to reply with a mortifying negative." The place was Lake Geneva. Mary Wollstonecraft was 16 when she ran away with her rock star poet lover, Percy Bysshe Shelley, two years earlier in 1814. He was married at the time and her father angrily disowned her. (Ultimately, she'd end up supporting her father, as well as her lover-turned-husband, and every surviving child they brought into this world.)
Scandal compelled Mary and Percy to escape their native England, and while in Switzerland, they were invited by Shelley's mentor, Lord Byron, to lodge near his Villa Diodati (the couple rented a house close by). Driven indoors at the Villa for days by the "wet, ungenial summer," they and the other guests whiled away their evenings telling scary German folktales.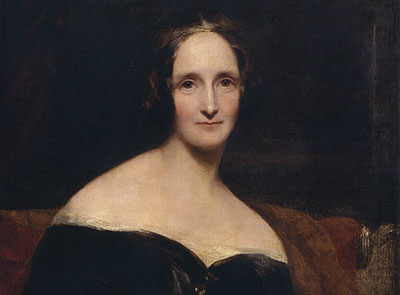 Once they'd exhausted these, a contest arose: I'll tell you my fantasy, you try to top it. Lord Byron's physician, John Polidori, spun the first Vampire story. Lord Byron conjured the makings of his later Manfred, a Faustian drama about a rogue romantic seeking to redeem an incestuous love.
Mary was blocked. A year or so before, she'd lost her first child—a daughter born prematurely. The girl had been conceived while she and Percy toured a Europe ravaged by the Napoleonic wars. "The distress of the inhabitants," she'd written, "whose houses had been burned, their cattle killed and all their wealth destroyed, has given a sting to my detestation of war." Nightmares and visions of that lost daughter plagued her until the birth of her son William, the winter before coming to Switzerland.
The era into which Mary was born, the late 18th and early 19th centuries, knew extremes of terror and hope. Terror in the sense that children died too often. Hope in the sense that—for free-thinkers like her—the future she dreamt of belonged to science and medicine. However, those students of science and medicine were obliged to sneak into cemeteries and steal corpses from their graves.
"Her monster's creator needed to be the product of a noble sounding family, and he needed a mighty surname. Her mind reeled back to the name on a splendid family castle, built in A.D. 1252, that she and Percy happened across while she was first pregnant, touring the war-ravaged Rhine: Frankenstein."
"Perhaps a corpse would be re-animated," she suggested one night over dinner, when it was once again her turn to invent a story. Galvanism, the application of electricity to dead muscle tissue, "has given token of such things." This was a provocative notion. She didn't have a story quite yet, but she had an idea.
What followed has since shaped world literature to the extent that, in 2011, three astronomers from Texas traveled to Lake Geneva armed with Mary's journals, as well as those of Dr. Polidori. From her descriptions of closed shutters and the "moonlight struggling to get through," they determined she was at her desk precisely between the hours of 2 and 3 a.m. on June 16, 1816, when inspiration struck:
"I saw—with shut eyes, but acute mental vision—I saw the pale student of unhallowed arts kneeling beside the thing he had put together; I saw the hideous phantasm of a man stretched out; and then, on the working of some powerful engine, show signs of life…"
Her monster's creator needed to be the product of a noble sounding family, and he needed a mighty surname. Her mind reeled back to the name on a splendid family castle, built in A.D. 1252, that she and Percy happened across while she was first pregnant, touring the war-ravaged Rhine:
Frankenstein.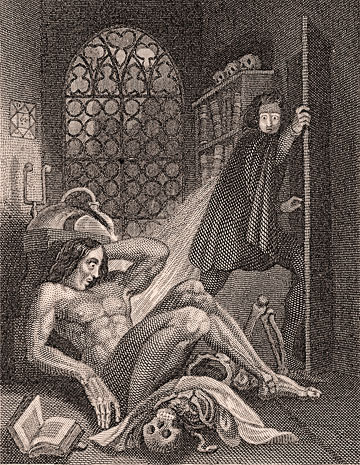 Victor Frankenstein, she decided, was a magnetic man of genius, playing God, who fetched corpses from their graves in a high-minded effort to answer death, and test Judeo-Christian morality with scientific Immortal Life. In personality, he derived from none other than her lake host, Lord George Gordon Byron (1788–1824).
"Mad, bad and dangerous to know," was the ticklish warning spread wide by Lady Caroline Lamb, the most infamous of Byron's many mistresses. Heir to his mother's beauty and to a noble if reckless bravery from his father "Mad Jack," Byron had survived an infant bout with polio that disfigured his right foot and limited his athletic capacities. Yet Byron won renown at Trinity College, Cambridge, for his skills as a boxer, a horseman, a gambler, and an unashamed seducer of both sexes. He distinguished himself early as a poet. His verses are among the greatest in English:
She walks in beauty, like the night
Of cloudless climes and starry skies
And all that's best of dark and bright
Meet in her aspect and her eyes
By the time Byron hosted the lakeside conception of Mary's monster, his affair with Lady Lamb was old news. His 1815 marriage to wealthy Anne Isabella Milbanke—which produced a daughter, Ada—had been detonated by the scandal surrounding Byron's incestuous passion for his half-sister, Augusta, which was said to have produced her daughter, Elizabeth Medora Leigh. Trailing storm clouds of such gossip, Byron, like Mary and Percy, left England a much-discussed outcast, determined never to return—dying within the next decade.
"Believe me, Frankenstein," the creature tells his creator in Mary's tale: "I was benevolent; my soul glowed with love and humanity; but am I not alone, miserably alone? You, my creator, abhor me; what hope can I gather from your fellow creatures, who owe me nothing?"
Outliving nearly everybody is the fate that befell Mary Shelley. Percy and Byron both died when she was still in her 20s. Three of her four children died in childhood.
Frankenstein made her wealthy—and famous—and though in recent years her feminist themed novella Mathilda (1820) and other works have been recovered and studied with appreciation, her most famous work of later life was her post-apocalyptic fantasy The Last Man (1826), which imagined the world wiped out by a plague.
Brutally criticized on its first publication, The Last Man has since given birth to a world of imitators: turn in any direction at the multiplex; stream your platforms; channel surf your movie channels; switch on the news—yet again, Mary was there ahead of us.
"It is true, we shall be monsters, cut off from all the world; but on that account we shall be more attached to one another." —Mary Shelley, Frankenstein