"We're both talkers," Gina Fattore says, laughing about herself and Megan Abbott, the Edgar Award-winning crime novelist and Fattore's fellow showrunner on the USA Network series they co-created, Dare Me.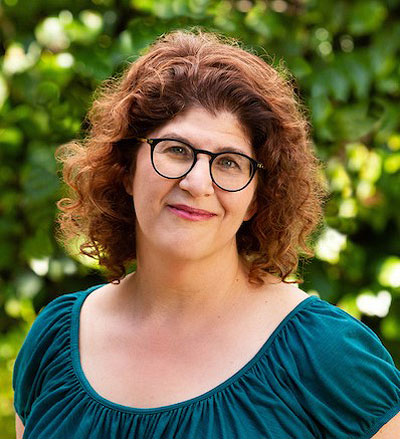 It's true. In their excitement about their joint venture, the pair—who adapted Abbott's literary thriller about high school cheerleaders into a series with the same name—finish each other's sentences at a rapid and gleeful pace.
On a Tuesday afternoon in early spring, they're sitting in a gray-walled conference room on the 35th floor of the looming 10 Universal City Plaza building. They're here to talk with Written By about their addictive mystery that peers behind the frothy image of the high school cheerleading world to uncover the intensity and confusion of adolescent friendships, as well as ambition, power, and betrayal in a fading Midwest town.
Back in 2012, Abbott's novel was published to dazzling notices ("Highbrow, brilliant," declared New York magazine). The book was set for a film at Fox 2000, with Abbott attached to write the screenplay. But about five years ago, with cast and director in place, production collapsed a month before shooting was to begin, at which point Film 44 pitched the project to HBO as a television series. Abbott wrote a preliminary pilot, then WME put her together with Fattore, a veteran of Dawson's Creek, Gilmore Girls, Parenthood, Better Things, and Californication.
"It was a match made in HBO heaven," says Abbott. "It was meant to be a PG-13 movie, more in the Mean Girls/Heathers sort of energy, for a younger audience, so it had to be a little bit sanitized. There was something nice about bringing it to TV where you could let it all hang out."
Teen Noir
Neither Abbott nor Fattore had been cheerleaders.
"Did our glasses give us away?" asks Fattore.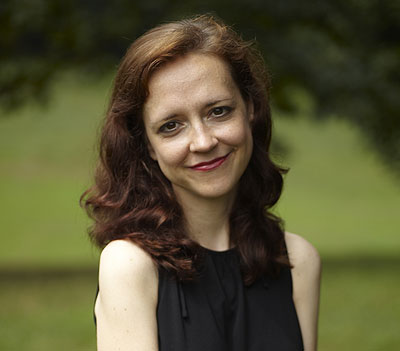 But both were Midwesterners, Abbott from Michigan and Fattore from Indiana. They bonded over time spent on their respective high school newspapers and their love of the Winnie Holzman-created 1994 series, My So-Called Life. They understood the ache of small-town kids hoping to escape to a more creative environment.
With the book told from teen protagonist Addy's unreliable point of view, the writers' goal was to broaden the story as they continued exploring Addy's infatuation with her school's new cheer coach. The enigmatic Colette French (Willa Fitzgerald) arrives in town to whip the squad into shape, knocking Addy's troubled best friend Beth from her perch as "top girl" on the team, and in Addy's life. Addy idealizes Colette, but as the season moves on, Colette is revealed as the steeliest of manipulators who involves Addy (Herizen Guardiola) in a crime scene that may or may not involve murder.
If more than one reviewer saw the book as Lord of the Flies with cheerleaders, Abbott envisioned the television adaptation as a female Friday Night Lights (inspired by the book by H. G. Bissinger, Friday Night Lights was developed for TV by Peter Berg). Indeed, Berg and former HBO President of Programming Michael Lombardo, who had partnered to create Film 44, would become Dare Me executive producers.
"Cheer parents' culture fascinated me," Abbott says about team boosters, often as ambitious for their kids as any stage mom or dad. With parents appearing only peripherally in Abbott's book, adding them broadened the television canvas, giving Beth a noir-ish depth that raised her beyond the clichéd mean girl.
"Part of the joy of TV is that it moves so quickly, and the thing I have learned working all these years is to be nimble. Sometimes that's a disadvantage, because you are moving too quickly through things, but the delays that happen because you can't pick a lane are frustrating for everybody on the writing staff. It trickles down to the rest of the show." —Gina Fattore
"It was a specific choice for me," Abbot says about excluding parents from her novel. "At that age, I wasn't even aware that my parents existed. But we didn't want to do that on the show. And we did want it to be in part about this struggling town. We also wanted that family situation to explain so much about Beth."
Spiky and defiant, the TV series' Beth (Marlo Kelly) became the child of an alcoholic mother and a father with a new wife and younger daughter, Tacy—who is, of course, a rising star on the cheer squad.
"I made Tacy her half-sister, and it was Gina's idea to make it that they live across the street," Abbott says.
"That was the soapiest thing I put out there," says Fattore.
Abbott counters, "But it was irresistible."
"Megan had already done so much work, built everything out, the world, the town, the parents, all of that stuff," Fattore says of Abbott's original TV script. "But I just felt like we needed a different story for the pilot. We needed a different engine, and a different end point. At our first Skype, I said, 'There's a lot of great stuff here. I just want to change the order of it.' And that's what we set about to do."
Since this interview, the series has been canceled. But it didn't go unnoticed. It landed on Time magazine's Best TV Shows of 2020 So Far list, and the studio is said to be shopping it around. As they wrote, optimistic then for a second season and wanting to delve deeper into their characters, they decided not to solve the book's mystery by the end of Season 1.
"It's really fun to think about: What are we withholding? What do we put in front of the audience? Make them want it, then withhold," says Fattore. "We know what this material is, so how can we parcel it out in a way that would be fun."
Less Is More
As an "anthropologist of TV," as Fattore puts it, interested in collaboration systems, she says she and Abbott devised an elaborate process of passing the pilot script back and forth between Los Angeles and New York, where Abbot was living. "The script is like a hot potato. You have it for 48 hours."
Abbott had worked for just two days on The Leftovers before an existing writer-in-residence university commitment interfered. Since then she had landed a shared 2018 Writers Guild Award nomination for her work on The Deuce.
At first Fattore was testing her, Abbott realizes: "A novelist's pace is usually when the muse strikes. But I was never that way, so we could pass things back really quickly. We were never waiting on the other person."
"That's why Megan was tailor-made for TV," Fattore acknowledges. "Most people don't write at that pace."
The pilot ends with Addy's first glimpse behind her rosy image of Colette, as the girls come upon the married coach making steamy love in a truck with the school's hunky military recruiter, Sarge Will Mosley. In the book, that sex scene doesn't happen until a quarter of the way through, when the girls surprise the couple in the teachers' lounge. But in the pilot, Beth captures Colette and Will on her cell phone through the truck windshield, giving the teen unexpected power over her rival.
"The coach seems like a star in some ways to Addy, so we wanted to make sure that was clear so people would understand the journey Addy is on, which is trusting and idealizing someone she shouldn't," Fattore says. "That's where the tension comes from."
Catch and Release
Around the holidays in 2017, HBO passed on Dare Me, relinquishing the script for the writers to sell elsewhere. Abbott flew in from New York, and over two intense days of pitching, they learned in the room that their pilot was a go for the USA Network. They cast athletic young actresses and filled the squad with actual cheerleaders before sending them to Toronto cheer camp for two weeks, to be coached by choreographer Amy Wright. Fattore ducked in occasionally with Starbucks in hand, a necessity for twenty-somethings spending their days doing handsprings and back tucks.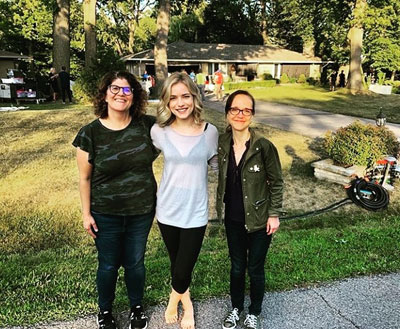 If Abbott and Fattore had not been cheerleaders, they hadn't been showrunners, either, and now that Fattore was boss she wanted to avoid a shortcoming she had witnessed in others: indecisive leadership. "Part of the joy of TV is that it moves so quickly, and the thing I've learned working all these years is to be nimble," she says. "Sometimes that's a disadvantage, because you're moving too quickly through things, but the delays that happen because you can't pick a lane are frustrating for everybody on the writing staff. It trickles down to the rest of the show."
For her part, Abbott had watched how The Deuce creators George Pelecanos and David Simon ran things. "Nothing can really prepare you, but that was a help, and they both gave me a lot of advice about it, especially about the tone of the show, which can get lost so easily if you're not on set. If department heads can't talk to you, it's bad for the show," she says. "And they really ingrained in me that sense of 'you need to be available.' I would not have known that, honestly."
The tone she wanted for Dare Me was clear to her: "Dark and messy, coming of age. We knew it so well, but explaining it to other people was always a challenge. We always say, 'It's not what things really look like, it's how they feel.' Everything should be pitched a little higher."
They shot the pilot in Canada in August 2018. On December 17, word came that the network was picking up the series. That meant they had only until January 11 to assemble their writing staff for an April shoot and a projected July 2019 premiere—though the series would not actually debut until December.
Blood Sport
"They already knew the book so well. It was just like coming off them, their love," Fattore says about the writers she interviewed. "People didn't want to fangirl in our meeting, but I was like, This is part of what we're doing here, trying to take this special thing and make it into TV. If that energy is there, and they're so excited about the work, I want that in the room."
Says Abbott, "We wanted writers of color, we wanted LGBT. That was all really important from the start, coming out of this strange moment in Hollywood. 'The doors are open! Everyone come in!' We didn't want just different versions of ourselves." Even earlier, instead of the white blond version of Addy in the book, they had cast Guardiola, who's of Cuban-Jamaican heritage.
Gathered in the one windowless writers' room available on the Universal lot were six "focused, type-A personalities," as Abbott describes them: Jamie Rosengard (Empire), Ariel Schrag (The L Word), Lisa Lutz (The Deuce), Danielle Henderson (Dad on Board), and Cathryn Humphris (Mad Men)—plus a lone male, Joe Johnson (Don't Hang Up).
"It felt like we were in the basement of a dorm," Fattore remembers. "It's finals week, and we've got to make it happen."
In the room, the writers watched clips for inspiration, with Spring Breakers, The Virgin Suicides, and Mulholland Drive among Abbott's references. "We were always talking about movies we'd seen," she says. "But the exciting thing in the room is you have fresh brains. We'd been working with the material for so long, you want someone to come in and say, 'Wait, what if we did this?' And it's something you never would have thought of. That's the best part of the room for me."
They also talked about being young.
"I've been in many rooms that tend to be personal; the Parenthood room, where famously everyone would cry," says Fattore.
"No one cried in our room," Abbott says. "Not even close."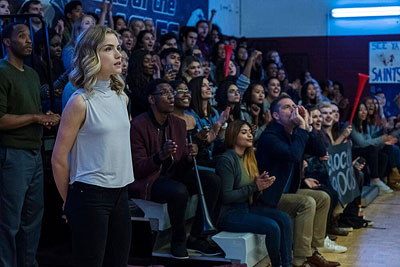 And in a show that deals with bloodshed, whether in the form of menstruation, gun violence, or the battering of beautiful young bodies in a dangerous sport, they took a softer approach to the girls' emerging sexuality.
"We talked a lot about Addy and Beth's relationship. That was probably the thing we talked about the most," Abbott says. "How complicated it was, and how we wanted to define and not define it, because it is a love affair that's over before the show begins. Over for Addy, but it's not over for Beth. Addy is tantalized by this new woman in her life, and Gina and I always kept that triangle at the center."
As they plotted episodes, Abbott nicknamed Fattore "Card Queen." "We used to joke about it, because she would never throw away a card: Just keep it in this other pile. Cards that we set aside two months ago, she would remember."
"Yeah, I am kind of old school, because I started so long ago," admits Fattore. "If we have a detailed outline that says what the scenes are, we're also helping production. We're able to look ahead and say to location, 'Heads up people, we're going to need a huge thing in episode six,' or whatever."
Once they began shooting the series, Fattore (who has landed her own overall deal with Universal Content Productions) prepped in L.A., traveling to Toronto every couple of weeks, while Abbott was a fixture on set. "Four hours could go by and no one needs you," says Abbott. "Then a critical question: 'Should Addy be holding a teddy bear on her bed?' 'No, she should not!'"
Knowing the fate of screenwriters in the old studio days, Abbott, three of whose other novels have been optioned for movies, counts herself lucky. "The writer was so divorced from production, and not usually invited on set. It was great to understand how different it was in TV," she says. Showrunning, she adds, "hasn't toughened me. Which is good. I remain entranced by this idea of Hollywood. I would have moments on set, looking at all the big banks of lights—it still sort of tickles my childhood fantasies."