Despite the worldwide shutdown brought on by the coronavirus pandemic, writers never had to stop working. But they did have to wonder how and when an audience would see their work again. A few decided not to wait. They didn't just write during the pandemic, but about it—and then they shot through it.
Love in the Time of Corona
Created by Joanna Johnson
Writers' room: Lauren Bans, Heather Flanders, Resheida Brady, Tasha Henderson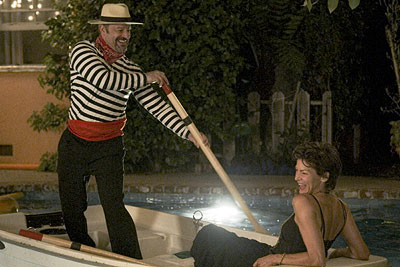 Joanna Johnson, co-creator of Good Trouble on Freeform, was still working in that writers' room when the shutdown began, so she wasn't looking for another project. Then her manager Robyn Meisinger mentioned in conversation that she was virtually dating someone, and that quarantine romance, or the lack of it, was a hot topic. "I said, 'That sounds like a great show, you should pitch it somewhere,'" Johnson recalls. "Robyn said, 'How about you pitch it to Freeform?'" So she did. (Meisinger is an EP on the show.)
Freeform jumped at the idea, fast-tracking it to be the first COVID-related series on the air. "They took a big leap of faith, because at that point there were no protocols; we weren't even sure if we could do the show," Johnson says. "They wanted this to air while we were still in lockdown, because at that time, we kind of amusingly thought it wouldn't be relevant in September when we were all back to normal, ha ha."
The four-episode romantic comedy was greenlit without a script or cast. "I had story areas, but I had to find actors quarantining together to plug into those story areas. I couldn't write the script until we had the cast. So we cast it first, and wrote it after."
She looked for a family with a college-aged daughter or son, a couple, and a group of friends. "We were trying to figure out who's available and who wants to work and who will let us shoot in their house [remotely], and do their own hair and makeup, with a costume advisor but mostly wearing their own clothes. That was the most stressful part."
Once they got the cast on board, the small writers' room went to work. "It was a three-week process for four episodes, which is insane," she says. Then add the pandemic restrictions. "We had to try to find stories that are compelling enough to be told just at home, where no one leaves. That was tricky." Stories centered on several relationship bubbles: best friends, a marriage on the rocks, and a couple separated by illness.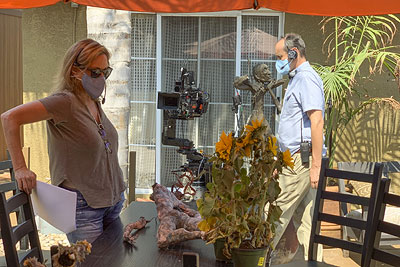 Late in the writing process, Johnson lost an actor to Jurassic Park. "That's when I Zoomed with Leslie Odom, Jr. and Nicolette Robinson," married actors. "They said, 'We love the story you've written, but if we're going to do this, we want to do a story that's closer to our own experience. Are you willing to change the story?' I'm literally five days away from shooting, and I'm like, 'Uh, sure,' because I wanted to work with them so much. They talked about what they've been going through during quarantine: 'Should we get pregnant again? He's never been home this much.' I took in everything they were saying, and then we broke a whole new story for them." The couple also became EPs on the series. The shoot lasted 15 days, wrapping on July 16th, and the show premiered on August 22. It's now available online.
While she missed having more time to write, Johnson relished one aspect of the scripting process. "On Good Trouble, I tend to have tons of story. This helped me trust that smaller relationship stories and moments can be captivating and intriguing; it doesn't always have to be huge stakes."
"In this business historically, there's this sense that you need to hide your family from your work, and act as though you are 100 percent built for this Hollywood machine … and that's not true for anybody. It has been remarkable to be reminded visually that all of us have other, more important things going on than the make-believe big show that we're writing." – Brendan Gall
Connecting...
Created by Martin Gero & Brendan Gall
Writers' room: Guy Branum, Ranada Shepard, Naomi Iwamoto, Chloe Keenan, Carl Tart, Rachel Pegram, Eddie Mujica, Shirin Najafi, Kaitlyn Jeffers
Martin Gero and Brendan Gall have been friends and colleagues for years, working together most recently on Blindspot, which Gero created, and have a large circle of fellow Canadian expats in Los Angeles who gather for Sunday dinners. Used to gather, rather. Once the lockdown began, "we were really mourning the loss of that, especially at a time when we were all feeling so scared and isolated," says Gero. "So we started having these Zoom conversations with our friends, and they were really funny, and also profound."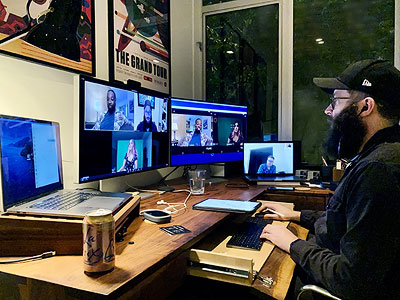 He had also been bingeing on Cheers "as a late-night sedation, and was kind of stunned that every third episode of Cheers had a pretty serious monologue at the end—they weren't afraid to swing into a serious subject, and then gracefully and brilliantly swing back out into comedy." He was also fascinated by the one-room setting, and thought that Zoom could serve as that one room. "It just felt like, someone's going to do a Zoom show, we should do a good one."
Gero started a new deal at Universal Television on June 15, and immediately pitched the Zoom sitcom. They immediately asked for pages. "Thankfully we're very fast, and within a couple of weeks we were picked up straight to series for eight episodes." Connecting... follows a group of friends as they navigate the challenges of quarantine, both micro and macro.
As with Johnson's show, "the whole thing was reverse-engineered around us asking the question: How do we shoot something as safely as humanly possible with these 'Safer at Home' measures?" Gall says. They decided early on that everybody in the ensemble cast would be shooting themselves on iPhones, in their own homes.
The showrunners knew they wanted a married couple, so that at least one Zoom frame would have two people interacting in real life. For the rest of the cast, "we were just trying to find as many different archetypes to service eight episodes worth of story," Gero says. So while they established characters, "we basically sent the script out and said, 'Hey, audition for whatever you think you're right for. If it's the wrong gender or sexual orientation, that's fine, make it closer to you, and we can adapt the character to the best people we can find.'"
The character of Ellis was written for a woman, "but she wasn't written for a trans woman, and we had a tremendous number of trans actors audition, I think because we said it was open for everyone. That's how we found Shakina Nayfack, who's an incredible hilarious powerhouse. And then we immediately hired a trans writer to make sure that was a voice we had in the room as well."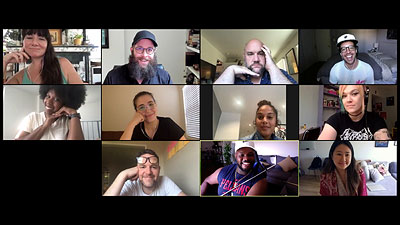 Once in the Zoom writers' room, the showrunners did what they could to simulate the experience of a real writers' room, even coming to the room late, "to make everyone else have to shoot the breeze for a while," Gall says. "That's how you get people to open up and feel comfortable and vulnerable coming up with ideas, telling stories. People have to trust each other, and it's hard when you've never met in physical space."
At the same time, he found the level of focus in a virtual room far exceeded that of a regular one. "There's a real requirement of turn taking; you have to be more present in your listening. So I think there's an attention paid in a Zoom room that's actually quite astonishing." That makes for an exhausting room as well, and he and Gero made the Zoom hours shorter as a result. "But by the end, I feel like oddly this is maybe the most closely-bonded room I've ever been a part of." The show premiered on October 8.
The truncated schedule was stressful, but ultimately liberating; "You go off of instinct," Gero says. "It forces the conversation in a great way, where you have to be decisive and finite about the stories you're going to tell."
Social Distance
Created by Hilary Weisman Graham
Writers' room: Tara Herrmann, Anthony Natoli, Merritt Tierce, Joe Hortua, Heather Jeng Bladt, Brandon Martin
Writers With "Story By" Credit: Brian Chamberlayne, Kirsa Rein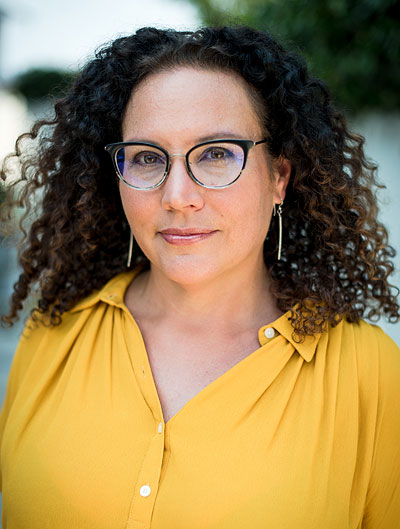 The morning the 'Safer at Home' orders took effect, Hilary Weisman Graham (Orange Is The New Black) was seized with a panic that turned surprisingly productive. She had been waiting on a contract for a feature to come through, "and I woke up thinking, They're going to cancel the contract, because what studio will pay you to write a feature you can never shoot, and when's the next time anyone is going to allow 200 people in a soundstage together? We'll never be able to shoot anything again unless we shoot something remotely—Oh my God, let's shoot something remotely!" She quickly wrote up a page of notes, reached out to Orange creator Jenji Kohan and their fellow writers, and they brainstormed together.
Two weeks later she pitched Social Distance to Netflix, "and sold it in the Zoom." (Kohan is an EP.) The writers' room opened on April 20, shooting ran from June 15 to July 20, and they wrapped post at the end of August. "It was a freight train," she says. "Part of the pitch was, 'Let's get this done really fast, because we want to get the show out before the pandemic's over.' So we moved at that pace." The series premiered on October 15.
The first thing she and her writers had to figure out was something they'd never had to think about before: how to film the actors. "Part of the story we wanted to tell with the show is that the only way we're connected with each other right now, aside from those we live with, is through our computers and our phones. It's the way we get around social distance, and it also is social distance. So we made that the POV of the show." Scenes are shot from a variety of sources, including Zoom, security cameras, and even VR rooms, reflecting each episode's stand-alone story.
Graham, a fan of anthology shows, had never created one before. "What I realized is that you have to do the very heavy lifting of establishing brand-new, well-nuanced characters every single time. I had written pilots and features, but having to do that was hard. That was sort of a dumb lesson to learn."
They tackled stories that many people were facing: how to walk through loss via Zoom. How to care for a child when you have to work. How to stay sober while isolated. How to care for a child when your spouse is quarantined with COVID-19. Seriously, what were they thinking, writing two separate stories featuring young children?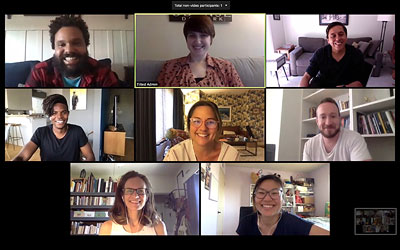 "That was the hardest part of doing this," Graham admits. "It was a million times harder on each of their parents." In Episodes 3 and 5, an actor performs with their own child. "Four-year-olds are like rabid raccoons; at least my child was," she says. "But at the same time, the issue of childcare is one that people are still facing, so that felt like a really important story to tell."
Episode 7, addressing teen angst, has an authentic digital resonance—thanks to some ringers. "We had a 'Bring Your Teenager to Work Day' in the Zoom room," to make sure everything was accurate, Graham explains.
Given the series' format and low budget, the episodes average about 20 minutes in length. Graham was having trouble wrapping up the stories that quickly, when she had an epiphany during one of her daily pandemic walks: "It just has to be less conclusive, because that's where we're all at now. That was a little tweak that made it feel right."
The Reckoning
Two of the shows were underway when George Floyd was murdered, and the uprising against police brutality and systemic racism swept the country. Johnson was about to start filming Love in the Time of Corona. "I went to the network, and I said, 'I don't know if we can make this show. Is it inappropriate to do something lighter during this time? Are people ever going to be able to look back on this time of the pandemic and not think about that part as well? How would we integrate that into the story and into the tone that we wanted to do?' I seriously considered pulling the plug. But then I thought about it more, and with the Ahmaud Arbery aspect in the story with Leslie and Nicolette, I thought, we are incorporating the beginnings of this. The show clearly ends May 10, before George Floyd's murder. So I felt that we could do it."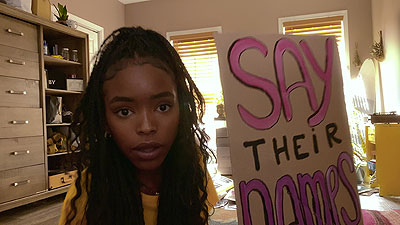 At the same time, Graham and her writers had completed writing seven of the eight Social Distance episodes. She participated in a protest the weekend after Floyd's death, "and I came back into the writers' room that Monday morning and said, 'We have to stop what we're doing. This has to be a part of this conversation, because it all feels so connected.'" They scrapped their planned final episode and started over.
Gero and Gall didn't begin their room until after the uprising was under way. "We knew we were making a comedy that would go from the beginning of the quarantine right up to the night of the election, and we would be dealing with everything that occurred within that chunk of time," Gall says. "We didn't know how we were going to address some of these issues in a half-hour comedy format, and that was a terrifying notion to us, but we knew we had to do it." The uprising, and its impact on the characters, weaves its way through much of the series.
"It was one of the most intense room experiences I've ever been a part of, to a certain extent because Brendan and I fully admitted immediately that we don't know, nor are we in a position to frame, these stories," Gero says. "The role of the showrunner is typically to be the creative vision behind the show, but we really felt like we had to get out of the way and curate more than dictate how to do these shows. And because of that, the room felt tremendously united and egalitarian in a way that doesn't usually happen."
Series Limits
After Love in the Time of Corona aired, Odom called Johnson to suggest making another four episodes, with four new stories. "I don't know if there's an audience for it," says Johnson, who's back at work on Good Trouble. "But that's a testament to how much fun we had. I think everyone was so happy to be doing something during this time, and putting out a positive message about love and connection."
Graham intended Social Distance as a one-off experiment, capturing this moment in time. When they first started working on the series, she recalls, "we had a running joke about Season 2, because surely the pandemic would be over by the time we could possibly consider the second season. Now I guess we're not so sure."
Gero and Gall likewise don't know what's in store for Connecting... but they found that Zooming about Zooming had an unexpected benefit: the chance to catch glimpses of everyone at home. "In this business historically, there's this sense that you need to hide your family from your work, and act as though you are 100 percent built for this Hollywood machine, and that you have no other demands on your life, and that's not true for anybody," says Gall. "It has been remarkable to be reminded visually that all of us have other, more important things going on than the make-believe big show that we're writing. That's been really profound."