On the evening of November 12, 1942, the Screen Writers Guild held its annual election of officers. Forty-two men and women stood as candidates for the executive board; of these, eleven were elected. The candidate for president ran unopposed: Mary C. McCall Jr.
She had been an active member of the Guild since its formation 10 years before. "As soon as I came to Hollywood," she explained in an interview, "I went and joined the SWG… I believe very strongly in the necessity of a strong writers' union, not only for the financial benefits which can be obtained by collective bargaining, but also for the professional advantages."
McCall would serve a total of three terms as SWG president, and twice as acting vice-president. She served multiple times on the executive board as well as on the Board of Governors of the Academy of Motion Picture Arts and Sciences.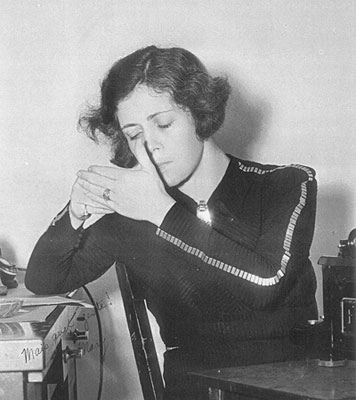 In her debut speech as president in 1942, McCall did not draw attention to herself as the first female head of the Screen Writers Guild. Instead, with characteristic diplomacy, she began with a list of male colleagues who were now "in service" overseas or in intelligence work. She stressed the collective responsibility of writers at home and abroad. "To all of us," she said, "the war has brought a heightened sense of responsibility."
Although some Guild members, remembering the heavy-handed propaganda of the First World War, were worried about the potential for government censorship and manipulation, McCall declared, in this war, "the ideas are ours...The pictures we write will be better pictures, more entertaining, more exciting, and quite possibly more profitable, because the war has demanded from us that the screen shall not be used to tell vapid stories, meretricious stories." Bad writing was false writing, whether it was heavy-handed propaganda or escapist fare. "The strengthening of the ties of brotherhood between nations accomplished by good screenwriting, points up the lesson we've got to learn."
McCall continued, "Screenwriters have in their hands a weapon not only mightier than the sword—it's mightier than the Garand rifle. It's our job to see that it is trained always on the enemy, that its fire never wounds one of our own."
She was well aware that over the past decade, the Guild's enemies had been the heads of the studios and the producers. As an executive board member, she had served on numerous committees and meetings with producers who saw the writers' efforts to improve pay and normalize working conditions as the end to executives' control of the studio system. But now, after years of struggle, McCall could say confidently that the union contract guaranteed by the New Deal's National Labor Relations Board was in place and changing the status of writers across the industry. That contract forced pay from $40 to at least $125 a week. "It's become almost natural for writers to use the front stairs," she joked. The agreement not only raised wages and flat-price deals, it gave "protection from having our brains picked by predatory producers." But a contract was only as good as the members who uphold it: "You must not let yourself be cajoled, wheedled, browbeaten, coaxed, kidded or stalled into speculative writing…Every member can help the Guild live up to the contract, every member can help the Guild see to it that the producers live up to the contract."
She ended the historic speech with this: "By nominating me unopposed for the Presidency of the Guild you have given me the greatest honor which I've ever received. I'll work hard for you."
Always succinct, always good for her word, and always politic, McCall was a master negotiator with producers. A woman whose petite physique masked a take-no-prisoners commitment to collective bargaining, McCall was the Guild's most valuable asset from its earliest days through the blacklist. Eventually, she would publicly sacrifice her career in Hollywood defending the basic right of screen credit against a new breed of politically repressive producers. But, like her most famous screen creation, Maisie Ravier, Mary C. "Mamie" McCall Jr. did not give up on herself or her show business industry. Sadly, she's never received the screen credit she deserves.
Writer & Fighter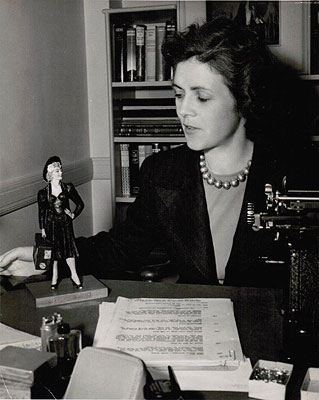 It usually surprises people to learn that women writers thrived in studio-era Hollywood and that McCall even existed—let alone ran the Guild in 1942-43, 1943-44, and 1951-52. Hollywood has often been portrayed as a repressive patriarchal corporate system intent on disempowering women (particularly after 1930), with more than one historian claiming that the studio era saw women lose the creative control they earned in the silent era. Although the number of female directors certainly declined (to basically just Dorothy Arzner), it wasn't the same for all branches of the industry. In many ways, Hollywood remained a pioneer among major industries in women's employment, leading McCall's lifelong friend Bette Davis to reminisce in 1977 that "women owned Hollywood for 20 years [1930-1950], and we must not be bitter."
Mary C. McCall Jr. was one of a number of young women to arrive in Hollywood in the early 1930s with a college degree. She came from a wealthy New York Irish American family. Her father Leo McCall was the son of John McCall, the former president of the New York Life Insurance Company, and her mother Mary Burke was a well-to-do debutante pretty enough to have had her portrait painted. Young McCall grew up in comfortable Englewood, New Jersey (an only child until her teens), and she was determined not to follow in her mother's footsteps. As she recalled, "From the time a composition of mine written in first grade was well received by the teacher and even most of the kids, I had had only one ambition—to be a professional writer."
Though hard times had pinched the family finances, her father budgeted enough money to educate her until she was 22. McCall wanted to attend a women's college, and went to Vassar where she edited the college newspaper, studied English and political science, and graduated at 21, a self-styled "big wheel" on campus. While in a post-graduate study program at Trinity College Dublin, an up-and-coming Foreign Service officer from Massachusetts tried to marry her, but, as she recalled with a sigh of relief, "fortunately for me this romance broke up in '27."
Although she married costume designer Dwight Franklin (The Black Pirate, 1926) the following year, McCall remained career focused. She returned to New York and worked in an advertising agency concocting snappy copy, writing short stories, and eventually two novels. Her first book, The Goldfish Bowl (1932), was serialized before publication, and, as it was loosely based on her old friend from Englewood, Elizabeth Morrow, her sister Anne, and Charles Lindbergh, the book attracted the attention of Hollywood, Warner Bros. bought the rights.
"From the time a composition of mine written in first grade was well received by the teacher and even most of the kids, I had had only one ambition—to be a professional writer."
— Mary McCall
Though McCall would always be miffed that Darryl F. Zanuck didn't hire her to adapt It's Tough to Be Famous (Robert Lord got the assignment), she landed a 10-week job at Warner Bros. writing Street of Women (1932), "a dog" of a picture the studio undoubtedly thought was more suitable material for a new female writer. With new-born daughter Sheila in Arizona with her grandparents and Franklin back East for much of the time, she stayed in Hollywood long enough to have an affair with the star of her picture, Douglas Fairbanks Jr., and see the screen adaptation of her novel enjoy a good preview.
But "at breakfast…I saw a newspaper with banner headlines: 'Lindbergh Baby Kidnapped.' My first thought was of Anne, but my second thought, I admit, was: 'There goes the book!' And how right I was! The big bookstores said they would stock it in case anyone asked for it, but they certainly would not feature or promote it in any way, since, as a satirical comedy, it was in such execrable taste, with the Lindberg family undergoing such suffering."
McCall sold another book to the studio for Fairbanks, a tragic Russian Revolution love story called Revolt (later retitled Scarlet Dawn, 1932), but though the film was action-packed and displayed the star's aristocratic good looks, it didn't lead to any immediate studio offers for the author.
McCall and Franklin returned to New York. She continued to add to her writing profile, publishing stories in Colliers and other "slick-paper magazines." But the Depression soon convinced the couple that "more and better paid employment for both of us lay in Hollywood." In early 1934, they relocated permanently to the West Coast, taking four-year-old Sheila and her governess Josephine Prickell along.
Mary returned to Warner Bros., this time with a long-term writing contract, and became active in the Screen Writers Guild, working to increase membership and develop a contract with the producers which would guarantee a minimum wage for all (including script readers), unemployment compensation, credit arbitration, and the right to strike.
A Balance of Public and Private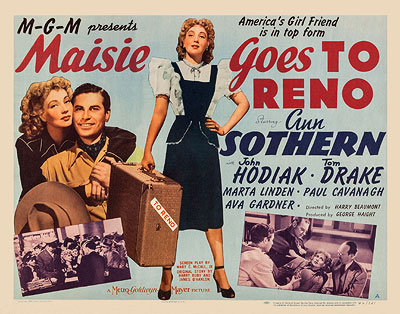 Through it all, she remained Mary C. McCall Jr. She and Dwight Franklin had a sound, equal partnership that was based as much on mutual respect for each other's intellect and talent as on physical attraction. She never stopped working after marriage, and it was Franklin who had encouraged her to go back to writing short stories to escape the boredom of her advertising job. When they married in 1928, she presented him with a "Sonnet for a Partnership," expressing her view that even in love, women and men had to preserve their equality and individuality.
Because there was a 16-year age gap between them, McCall benefitted from Franklin's knowledge of Hollywood as much as from his amused detachment from the glitz of Southern California. Franklin needed perspective, particularly when McCall had affairs with Fairbanks and later Leslie Howard, but he loved her and tolerated what was—even by Hollywood standards—a very modern, open marriage. (Years later in the supposedly straight-laced 1950s, McCall would discuss the benefits of pre-marital sex, reasoning that, "Before you buy the shoe, you have to try it on first.")
A number of prominent female screenwriters in the 1930s had well publicized relationships with other writers (Lillian Hellman and Dashiell Hammett, Tess Slesinger and Frank Davis, Dorothy Parker and Alan Campbell, Frances Goodrich and Albert Hackett), but these partnerships were focused on their shared careers as writers. Mary was unique in being married with three (and, from 1944, four) children for the most productive period in her career, something that very few working women in Hollywood dared—or were allowed—to do. Her friend Louella Parsons, a big fan of McCall's Maisie series for MGM, reported McCall's career successes, remarriages, and new children with equal measures of praise and admiration. Things were not so easy for other women in Hollywood. Studios often forced women to choose between furthering their career and building their family. Her close friend Bette Davis, whom McCall first met when they were dissatisfied workers at Warner Bros., only became a mother late in her career as the studio's top star (1947) and would terminate her contract in 1949.
But in the early 1930s, Mary came closest to having it all as a woman in terms of public career and private life. During the early years of her marriage, she wrote or worked on half a dozen scripts for Warner Bros., including a sweet May-December romance for newcomer Jean Muir (the future television blacklistee also starred in McCall's Midsummer Night's Dream), two hot Code-bending stories for Barbara Stanwyck (The Woman in Red and The Secret Bride), and a prestige adaptation of Sinclair Lewis's Babbit. She was at the studio all day, and little Sheila was with her governess.
At night, instead of reading bedtime stories, she was either attending or hosting Guild meetings, many of them in the McCall-Franklin home. When she was hard at work writing the script for A Midsummer Night's Dream (starring her old New York Irish pal, James Cagney, as Bottom), she was very pregnant with twins. Years later, she described it simply in a collection of reminiscences intended for her children: "Gerald McCall Franklin and Alan McCall Franklin were born on November 16, 1934, just 24 hours after my last conference—at home—on A Midsummer Night's Dream." She was back at work in two weeks, adapting the gangster drama, Dr. Socrates (1935), before being loaned out to Columbia Pictures in 1936.
A Valued Writer on Set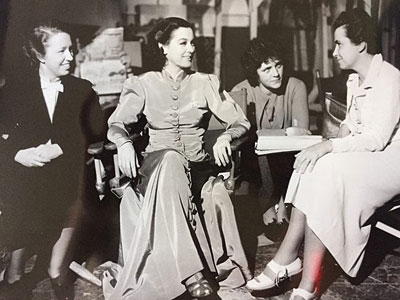 Being loaned out to Columbia was the best thing that could have happened to McCall. There she met two people who would change her attitude toward screenwriting and career independence: Dorothy Arzner and Harry Cohn. Arzner was Hollywood's last remaining prominent female director. McCall would become her good friend and would speak at Arzner's Hollywood retirement tribute a decade later. Arzner and McCall's friendship came to fruition on the set of Craig's Wife (1936).
Columbia's production of George Kelly's Pulitzer Prize-winning play about an acquisitive housewife was the studio's top prestige film for 1936, intended to capitalize on and outshine Samuel Goldwyn's Dodsworth, released the year before. Arzner wanted the best writing possible, and McCall's former colleague at Warner Bros., Edward Chodorov, now a producer at Columbia, recommended McCall. As she remembered, "Miss Arzner's belief that a writer should be a part of the making of a picture from start to finish, and that I had the makings of a good writer for the screen, encouraged me to stay [at Columbia]." McCall had been contemplating returning to New York given how "discouraged" she was at Warner Bros. merely drafting smart dialogue. She wrote the first draft, and then writer and director worked through each line.
"She questioned every move I made," McCall remembered. "In the script, I would write, 'She walks to the window.' Dorothy would say, 'Why?' And I would answer, 'Well, she's getting the worst of the argument, so she is running away. She turns her back and looks out.' 'All right, all right, but I have to know why she moves. Otherwise I cannot direct it.'" McCall had a unique opportunity to shape the production and performances, because, unlike other directors McCall had worked with, Arzner "wanted the writer to be on the set."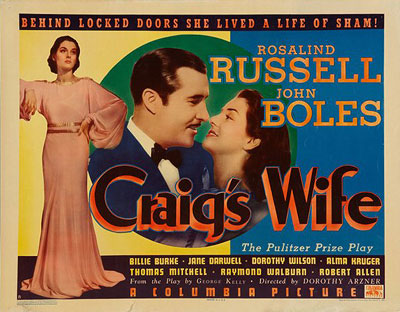 Rosalind Russell was taking a career risk playing as unsympathetic a character as Mrs. Harriet Craig. But as film critic Mildred Martin wrote, "Craig's Wife may give many women the thrill of recognizing themselves, not retouched…Miss Russell has stopped being a carbon copy—however charming—of Myrna Loy and has played Harriet Craig uncompromisingly and sincerely." The film critic found it liberating that women dominated the film production (in addition to McCall, Arzner, and Russell, Viola Lawrence was editor). Martin took note of the fact that although a man (George Kelly) had written the stage play, the film was better because "only women could so deeply get beneath the skin of another woman and so devastatingly expose her."
McCall frankly relished working with Arzner: "At the end of each rehearsal she would turn to me and say, 'How is that for you?' For the first couple of days I couldn't believe it. I had never been assigned to a set before." It was a true collaboration, and toward the end of production, they had a serious talk about McCall's career. Arzner was worried that McCall would give up and return to New York. "When Dorothy asked me how this assignment had been, I said, 'It's been the finest weeks of my professional life. I have stopped the work reluctantly every night and have gone to it eagerly the next day.' And [Arzner] said, 'Well, it can be like that, you know, and you can make it increasingly like that if you stick with it. But if you turn your back on it and run away, then you will never have anything to say about how a motion picture is made.'" McCall took her advice, but knew she couldn't remain at Warner Bros. as, in her words, a mere "corpse-rouger."
At Warner Bros., McCall was on a rigid schedule. Salaries were low and it was the worst studio to work for if you were a member of the fledgling Screen Writers Guild—or a woman. Though her name was on several moneymakers, she was usually one of several contract writers on a project and preferred to work alone. As McCall remembered, of Warner Bros.'s 30 fulltime writers, only two were women—herself and Lillie Heyward.
In a speech at the Writers Guild of America West delivered in 1978, she shared the grim facts: "The average pay of screen writers equaled that of the body makeup men. Employees were bullied by the high brass—told, not urged, to donate campaign funds—given a list of films, players, directors to vote for in the Academy's balloting… I collected signatures protesting the studio's action. All the men who had signed it were summoned to Jack Warner's office. He demanded to know what individual had written this. They all said, 'We wrote it.' But J. L., through native shrewdness and information from a fink, knew I was the culprit." She was fired in the middle of Craig's Wife, but Harry Cohn arranged to buy out the remainder of her contract so she could resume working for him straight away.
Cohn didn't give a damn whether his writers belonged to the Guild or not; he didn't care if they were male or female. What he cared about was good writing. One day as McCall walked across the Columbia lot on her way out, Cohn yelled out the window at her, "Where are you going?" When she replied, "I'm going to lunch," he bellowed, "No one goes off the lot to lunch here." "Well, I do, and I'm going," she yelled back, and continued off the lot.
Any woman who yelled right back at Cohn had his respect, and as Mary said, "whereas he might break your jaw, he would never stick a knife in your back." McCall remained at Columbia until 1938, when she made a well-publicized move to Hollywood's richest studio, MGM. There she was right at home among some of the most famous—and female—writers in the business. Too at home, perhaps, for MGM's executives. Because in addition to transforming Ann Sothern's career with the sleeper Maisie franchise, she was signing up more SWG members, nailing down the producers' contract, and, as the wartime president of Hollywood's newest Guild, rolling up her sleeves to do battle with the Guild's two new foes: the Motion Picture Alliance and the House Committee on Un-American Activities.
Part two of the Mary McCall Jr. story will appear in the September print edition of Written By magazine.
Visit the Writers Guild Foundation to view The Life and Legacy of Mary McCall Jr., an exhibit featuring rare photographs from the WGF Archives and Margaret Herrick Library and personal items on loan from the Mary McCall Jr. family.